This year you might spend more than 4,000 hours staring at digital devices of some sort.
Don't worry, we've got you covered.
Digital Eye Strain? What's the Big Deal?
More than one-third of Americans spend eight hours of the day in front of a screen. And while our phones and tablets get smarter every year, our eyes unfortunately need a little more time (give or take a few thousand years) to catch up to the digital age. We're putting constant strain on our eyes anytime we're in front of a screen. Excessive screen time can put strain on our eyes accommodative system. That along with prolong light sensitivity can lead to headaches, insomnia, fatigue, blurred vision, trouble focusing, and neck or back pain… oops. Did this just turn into a prescription drug commercial?
Why Carrot?
Carrot is doctor-designed, wear-to-work ready, but cool enough for happy hour. Our lenses block 50% of all blue light and 90% of the highest range without the unflattering blue or yellow tint. We coat each lens with anti-glare and UV protection.  And the best part? Every frame is under $70.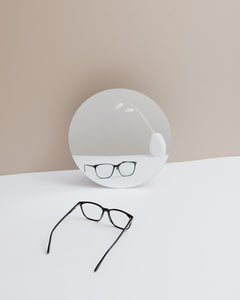 The Nuts and Bolts
Slip your eyewear on anytime you're online or channel surfing. Wear contacts? No problem - our frames are compatible with all contact lenses. When you're done, tuck them back into the case for protection until next time.
"Being such a busy bee always constantly either looking at my laptop, desktop, phone, ipad, etc. has strained my eyes so terribly!! My eyes have become so sensitive to light to the point where I would get nauseous, have headaches, or sometimes even migraines that were paralyzing. These eyeglasses from Carrot Eyewear have seriously changed my life. I seriously highly recommend these glasses!"
-- Izella
"I'm so glad I gave Carrot Eyewear a try, I was skeptical about blue blocking glasses but was happy to see that it was doctor-designed and they even had video examples of blue filter lenses vs non-blue filter lenses. It really puts my mind at ease that I am being proactive with my eye health. They really do make my eyes feel less fatigued and tired, I wear them all the time now!"
-- James
"The frames are so stylish AND affordable! There is so much attention to detail on the frames and the lenses are virtually clear. I can see my computer clearly and no longer experience eye strain. In the past I've tried a few brands out, but they were never as clear as I'd like. I am so happy with my decision with Carrot Eyewear and never turning back! In fact, I've introduced all my friends and family to them!"
-- Katie
Follow us @carroteyewear and join the CARROT FAM!